"Avoid the green ooze."

―Action 52 instruction manual.

OOZE is the fifth game released for Action 52 for the Nintendo Entertainment System. A simple platforming game, you must dodge the ooze as you make your way through the stage. You can also shoot the ooze.
Gameplay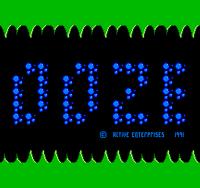 There was a contest held by Active Enterprises where if you made it to the end of level 5, took a picture of your television screen and sent it in, you would be entered in a drawing for $104,000. However, the game freezes during level three, making it impossible for anyone to even enter. Upon starting up or resetting the Action 52 cartridge, no matter which screen the player is on, OOZE is automatically highlighted.