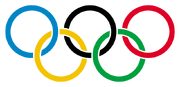 There are a host of video games that involve a variety of Olympic based sports. They're commonly released during or before the Olympic games occur, and include both the summer and winter events, though games are released separately.
List of games
See also
Ad blocker interference detected!
Wikia is a free-to-use site that makes money from advertising. We have a modified experience for viewers using ad blockers

Wikia is not accessible if you've made further modifications. Remove the custom ad blocker rule(s) and the page will load as expected.