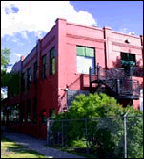 Orbital Media is a developer and publisher of handheld video games. They were founded in 2003 and their debut title, Racing Gears Advance for the Game Boy Advance received high praise from video game critics. As of now, it's unknown if the company is still developing any video games as we've heard nothing from them in well over 3 years.
Games released by Orbital Media
Ad blocker interference detected!
Wikia is a free-to-use site that makes money from advertising. We have a modified experience for viewers using ad blockers

Wikia is not accessible if you've made further modifications. Remove the custom ad blocker rule(s) and the page will load as expected.