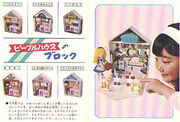 People House is the name given to six varieties of toy houses made by Nintendo in October of 1968. One of the earliest Nintendo toys made specifically for little girls, People House proved to be popular partly due to three of the houses having a Disney theme (including Alice in Wonderland, Cinderella and Bambi). Within each set the child would find a rather small toy house with a large opening, a single doll and several N&B Blocks that could be used to make flowers. A small puppet also came included with each set that the girl could put on their thumb.
Sets
Alice in Wonderland - Disney license
Bambi and Milie - Disney license
Cinderella - Disney license
The florist
Little Red Riding Hood
Maria the nurse
Ad blocker interference detected!
Wikia is a free-to-use site that makes money from advertising. We have a modified experience for viewers using ad blockers

Wikia is not accessible if you've made further modifications. Remove the custom ad blocker rule(s) and the page will load as expected.