Ad blocker interference detected!
Wikia is a free-to-use site that makes money from advertising. We have a modified experience for viewers using ad blockers

Wikia is not accessible if you've made further modifications. Remove the custom ad blocker rule(s) and the page will load as expected.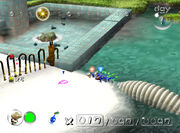 The Perplexing Pool is a location in the Nintendo GameCube game Pikmin 2. This is the third location that Captain Olimar and Louie can travel to. It is also the place where the Yellow Pikmin are first located in the game. This area has a pronounced number of lakes, with quite a large area of the level submerged at both ends. There are four caves and seven treasures above ground.
The area is noted to bear a number of striking resemblances to The Distant Spring in Pikmin, for which reason it be confidently considered to be the same area of the Pikmin Planet. Despite the similarities, there are some differences: for example, small islands are missing in the later version, and obstacles such as bridges and gates have been changed.
Secrets
Caves
Treasures
Enemies
Fiery Bulblax (disappears once after Olimar or Louie defeats it)
Yellow Wollywog (one was replaced by a trio of Shearwigs after Day 30)
Spotty Bulbear (after Day 30)
Beady Long Legs (after Day 30)
Wogpole ('disappears once after Olimar or Louie defeats them [near the Shower Room entrance])
Shearwig (three replace a Yellow Wollywog on Day 30)