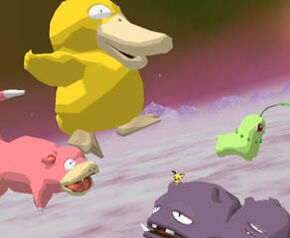 Poké Floats is a stage found in Super Smash Bros. Melee for the GameCube. It takes place far above Kanto and features a multitude of Pokémon balloons (or floats). The objective in this level is to continually jump on the moving Pokémon in order not to be dragged off of the screen, ultimately resulting in a K.O.
List of Pokémon
Ad blocker interference detected!
Wikia is a free-to-use site that makes money from advertising. We have a modified experience for viewers using ad blockers

Wikia is not accessible if you've made further modifications. Remove the custom ad blocker rule(s) and the page will load as expected.