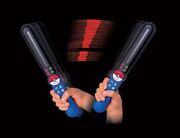 Pokémotion is a communications tool released on August 1st, 2003 by the Pokémon Company. Nintendo Network Services Development created the product, with Masaru Shimomura among the people involved in the creation of it. Released exclusively in Japan, Pokémotion resembled a glowstick that, when waved, reveals images by making use of the built in LEDs. The images varied and could consist of Japanese letters and even Pokémon, as would be expected. The images developed could be seen due to the afterimage in your eyes. Its retail cost was 5,800 yen.
Wii MotionPlus
When developing the Wii MotionPlus accessory at Nintendo, the developers encountered a problem where the Wii MotionPlus would disconnect from the Wii Remote after shaking the controller thousands of times. It wouldn't be reasonable to manually shake the Wii Remote this many times just in order to see if the problem had been fixed due to the developers' hands becoming sore, so instead they resorted to using a Pokémotion storefront display which shook the Pokémotion. Instead of the Pokémotion they placed the Wii Remote in the hands of the display. Apparently they had many of these left over, allowing them to conduct various tests at once. Thanks to the Pokémotion storefront display, they were able to zero in on the problem and do what was necessary.
Ad blocker interference detected!
Wikia is a free-to-use site that makes money from advertising. We have a modified experience for viewers using ad blockers

Wikia is not accessible if you've made further modifications. Remove the custom ad blocker rule(s) and the page will load as expected.