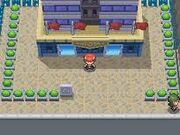 The Pokémon Watch or Pokétch for short, is a personal tool manufactured by the Pokétch Company for Trainers from Sinnoh, in the form of a watch with a touch screen. In Pokémon Diamond and Pearl, it is the navigational successor to the PokéGear and PokéNav, and is seen on the bottom touch screen of the Nintendo DS when the player is walking around.
Ad blocker interference detected!
Wikia is a free-to-use site that makes money from advertising. We have a modified experience for viewers using ad blockers

Wikia is not accessible if you've made further modifications. Remove the custom ad blocker rule(s) and the page will load as expected.