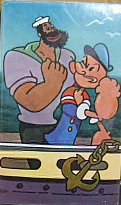 Popeye playing cards
are
Western playing cards
by
Nintendo
. It's unknown what year Nintendo received the license to release the Popeye playing cards from Kings Feature Syndicate, but it's presumed to have been sometime after they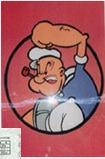 managed to get the rights to release
Disney playing cards
. The back of the box features no year.
It's unclear how many decks Nintendo released. At least ten are known of, though the number could be much higher.
While Nintendo managed to receive the license to release Popeye themed playing cards, they failed when trying to convince KFS to develop a Popeye arcade game. Donkey Kong was initially planned to feature Popeye characters but when Nintendo was told they couldn't use Popeye, Shigeru Miyamoto decided to include his own creations. Shortly after the success of Donkey Kong KFS agreed to grant Nintendo the Popeye license.