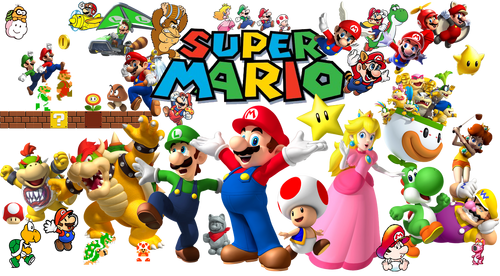 Super Mario Series

---

---

---

---

---

---

---

---

---

---

---

---

---

---

---

---

---

Arcade Games

---

---

---

Role Playing Games

---

---

---

Sports & Racing

---

---

---

---

---

---

---

Party & Puzzle

---

---

---

Sandbox

---

Related Series

---

---

---

---

---

---

Characters

---

Enemies

---

Items

---

Locations

---

Mario in Other Media

---

Soundtracks

---

People

---

Recent Releases

Mario & Sonic at the Rio 2016 Olympic Games
is the latest entry in Mario & Sonic at the Olympic Games franchise released on the Wii U and 3DS, having the duo and their friend compete in Rio de Janeiro.

---

Mario & Luigi: Paper Jam
is the fifth entry in the Mario & Luigi series and adds Paper Mario to spice up the gameplay. Now with 3 characters, use Trio attacks to stop the Bowsers' plans and restore peace to the Mushroom kingdom.

---

Mario Tennis: Ultra Smash
for Wii U is the most recent Mario tennis game. Grow huge in the Mega Battles and bring in your amiibo to work together against opponents online.

---

Super Mario Maker
is a Mario-based level creator. Create your own levels or try the wide variety of user-creator levels. With the Mystery Mushroom, play as pretty much whoever you want from Nintendo's library of characters as well as a couple interesting guests

---

Mario Party 10
for the Wii U is the latest game in the Mario Party series. Now able to support up to 5 players with Bowser Party. Bring in your amiibo to play in a more traditional style with amiibo Party.

---

Mario vs. Donkey Kong: Tipping Stars
is the latest entry in the Mario vs. Donkey Kong series released simultaneously on both 3DS and Wii U eShops. This entry focuses on level creation and sharing levels with players tipping stars to their favorite levels.

---
Ad blocker interference detected!
Wikia is a free-to-use site that makes money from advertising. We have a modified experience for viewers using ad blockers

Wikia is not accessible if you've made further modifications. Remove the custom ad blocker rule(s) and the page will load as expected.