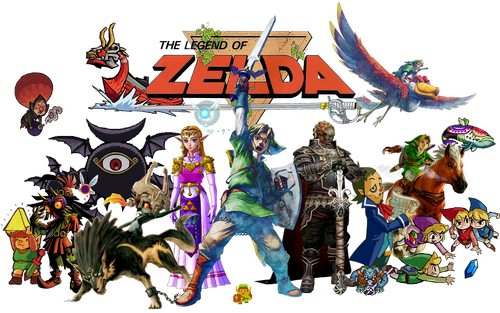 Main Series

---

---

---

---

---

---

---

---

---

---

---

---

---

---

---

---

---

---

---

Remakes & Rereleases

---

---

---

---

---

---

---

Other Games

---

---

---

---

---

---

---

---

---

---

---

---

Related Series

Characters

---

Locations

---

Races

---

Enemies

---

Items

---

Zelda in Other Media

---

Soundtracks

---

People

---

Recent Releases

The Legend of Zelda: A Link Between Worlds
Now available on the Nintendo 3DS.The Legend of Zelda: A Link Between Worlds or Zelda no Densetsu: Kamigami no Triforce 2 (ゼルダの伝説 神々のトライフォース2 Zeruda no Densetsu Kamigami no Toraifōsu Tsū?, lit. "The Legend of Zelda: Triforce of the Gods 2") the sequel to The Legend of Zelda: A Link to the Past is a new game taking place six generations or 90 years following that game's events

---

The Legend of Zelda: The Wind Waker HD
Now available on the Wii U eShop. The original Wind Waker game, remastered in 1080p HD for the Wii U with new features like the Swift Sail and the Tingle Bottle.

---

The Legend of Zelda
Now available on the Nintendo 3DS eShop. The original NES classic has been released for the 3DS Virtual Console. Relive the epic adventure that started it all. Experience the vast open world of Hyrule, now with a convenient save-state feature allowing you to explore like never before.

---

The Legend of Zelda: Skyward Sword
Released for the Wii in 2011, the latest Zelda adventure takes place chronologically first in the long-running series, revealing the origins of many series staples such as the Master Sword. Gameplay revolves around the Wii MotionPlus, enabling near 1:1 swordplay and character movement. The game has received near universal acclaim from critics and players alike.

---

The Legend of Zelda: Ocarina of Time 3D
A remake of the 1998 classic, Ocarina of Time 3D brings new features and enhancements to the Nintendo 3DS. Developed by Grezzo, the game's character models and textures are given a complete overhaul to more accurately represent the original's concept artwork. The game takes advantage of the 3DS's touch screen by allowing instant access to the inventory menu, making certain items like the Iron Boots much easier to use

---

More to Explore
Ad blocker interference detected!
Wikia is a free-to-use site that makes money from advertising. We have a modified experience for viewers using ad blockers

Wikia is not accessible if you've made further modifications. Remove the custom ad blocker rule(s) and the page will load as expected.