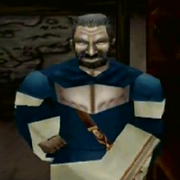 Rastolin is a scholar from Shadowgate 64: Trials of the Four Towers. He is fascinated in the study of Castle Shadowgate and tells the main character, Del Cottonwood, about how there are many discovered and undiscovered areas within the castle. He mentions how he discovered what power Castle Shadowgate has over the Warlock Lord. However, all this studying gets him confused since he constantly says, "Did I mention my name was Rastolin?"
Ad blocker interference detected!
Wikia is a free-to-use site that makes money from advertising. We have a modified experience for viewers using ad blockers

Wikia is not accessible if you've made further modifications. Remove the custom ad blocker rule(s) and the page will load as expected.