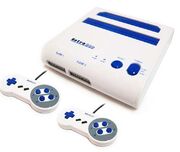 The Retro Duo is a clone of the Super Nintendo Entertainment System made by Innex Inc. This clone is compatible with both NES and SNES games. It uses SNES peripherals.
Originally, the SNES would have been backwards compatible with the NES, but would have made its price $100 more, so the functionality was scrapped. This console may have been what the official SNES would have been like had that feature been retained.
Ad blocker interference detected!
Wikia is a free-to-use site that makes money from advertising. We have a modified experience for viewers using ad blockers

Wikia is not accessible if you've made further modifications. Remove the custom ad blocker rule(s) and the page will load as expected.