Robot Masters
are the pre-final and fortress bosses in the classic
Mega Man
series, dating all the way back to the original
Mega Man
on the
NES
. Usually in each game there are a total of eight, though in the initial release there were only six. Each robot is fitted with human-like AI, and have the ability to have real emotions and personalities. In each time they fight, it is revealed Megaman does his best to not damage the integrative circuit. As long as it is not too damaged, the Robot Masters can be rebuilt anytime.
List of Robot Masters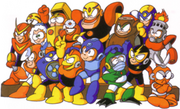 Note: Mega Man 8 was released initially on the PlayStation and Saturn, though was eventually released on the GameCube in a Mega Man compilation.