This article is about the Pikmin object. You may be looking for the Chrono Trigger enemy.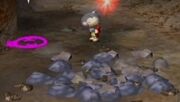 Rubble
is an object in both
Pikmin Games
that give
Pikmin
nectar
. It does the same thing as the
Nectar Weed
. When Pikmin go near it, they will destroy rubble, making nectar. Only 5 pikmin at a time though. Like Nectar Weed they are found in all areas in
Pikmin
. In
Pikmin 2
, they are only found in
Awakening Wood
, and unlike nectar weed,
Wistful Wild
.