Ad blocker interference detected!
Wikia is a free-to-use site that makes money from advertising. We have a modified experience for viewers using ad blockers

Wikia is not accessible if you've made further modifications. Remove the custom ad blocker rule(s) and the page will load as expected.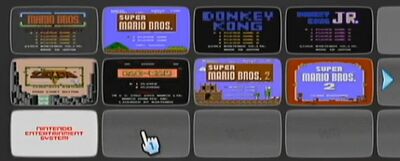 The SD Card Menu is a secondary menu on the Wii Menu represented as a SD Card next to the Wii Options button. Available on the Wii Menu, starting with firmware 4.0 and up, this menu allows you to temporally load a channel from the SD Card to see on your screen as long as there is enough memory in the Wii's internal memory storage to do so. Along with the regular SD Card, the other compatible SD Cards are also usable.
Features
Has 20 pages totaling 240 channels.
Preview and Menu screens based on file screens.
A help button about the Menu
Notes
Only usable if a SD Card is inserted. (Blue Card means there is a SD card in the slot, Grey means that no SD card is inserted.)
There must be enough memory in the Wii's internal flash drive to load channels from the card. If not, you will have to manage the data.
You cannot load save data if you are loading from the SD Card