Sandbag
Talk

0
11,644pages on
this wiki
Sandbag is, in a way, a character in the Super Smash Bros. series. It first appeared in Super Smash Bros. Melee in the homerun contest, where your objective was to damage the Sandbag as much as possible in under 10 seconds. Once you have done so, you were then required to grab a home-run bat, go up to it, and send it soaring off of the stage as far as possible. The farther it went, the better. If you were able to send the Sandbag a certain distance, then you would come in possession of the Paper Mario trophy.
Sandbag later appeared in
Super Smash Bros. Brawl
for the
Wii
in multiple different ways. First and unarguably foremost is his role once again in the home-run contest, where your objective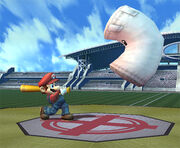 was once again to send him as far as possible. However, the developers of the game made it possible to deliver more damage to the character this time around, as there is now a shield around the stage that blocks the sandbag from accidentally be knocked off the stage, something that happened quite often in
Melee
. You're also allowed to play with a friend, and either work cooperatively or competitively with someone in the same area or someone else far away via
Nintendo Wifi Connection
. Also notable is the fact that you can pummel the innocent character while waiting for your game to load before connecting to Nintendo Wi-Fi Connection. It is also an item in Brawl that if you hit it hard, sometimes confetti comes out and an item comes out.
Trophy descriptions
Edit
"Sandbag exists for one reason only: to get smashed in the Home-Run Contest. Pound on Sandbag as much as possible in the time allotted, then swing for the fences as you compete for the longest home run of all time. Getting hit doesn't hurt Sandbag at all. As a matter of fact, it loves to see players wind up and let loose." - Super Smash Bros. Melee
"An item that appears in the Home-Run Contest, where the goal is to do lots of damage to Sandbag, then send it flying as far as you can. It also appears in the regular game. If you smash it, a storm of confetti and items will burst out. Sandbag doesn't feel pain, though; in fact, it's happy to be of service." - Super Smash Bros. Brawl