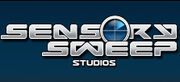 Sensory Sweep Studio is a video game developer found in Utah. It was founded in 2004 by Dave Rushton and his kids Chris and Tony. They have made a host of Game Boy Advance titles such as Yu Yu Hakusho and Capcom Classics. Currently, the company have released over 15 titles for the Nintendo DS handheld, claiming that it's more than almost any other publisher in the market. Recently they've released Major League Eating: The Game on Nintendo's WiiWare service. Currently, their primary goal is to make the game of the year.
List of games
Ad blocker interference detected!
Wikia is a free-to-use site that makes money from advertising. We have a modified experience for viewers using ad blockers

Wikia is not accessible if you've made further modifications. Remove the custom ad blocker rule(s) and the page will load as expected.