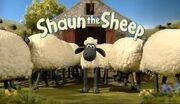 Shaun the Sheep is a character who formerly had his own TV show with the same name that had nothing to do with Nintendo. He was created by Nick Park and Aardman. He officially originated from the Wallace & Gromit episode A Close Shave.
In March 2012, Nintendo brought Shaun the Sheep back to life on the Nintendo Video.
List of Videos
Released: 03/07/2012
Released: 03/14/2012
Episode: Babysitting Timmy
Released: 03/21/2012
Episode: Bitzer Over Easy
Released: 03/28/2012
Released: 04/04/2012
Released: 04/11/2012
Released: 04/18/2012
Released: 04/25/2012
Released: 05/02/2012
Released: 05/09/2012
Episode: Shaun Goes Old-School
Released: 05/16/2012
Ad blocker interference detected!
Wikia is a free-to-use site that makes money from advertising. We have a modified experience for viewers using ad blockers

Wikia is not accessible if you've made further modifications. Remove the custom ad blocker rule(s) and the page will load as expected.