Shinko Takeshita (maiden name Shinko Konishi) is a Nintendo graphic designer. She has worked mainly on field design on various games, like Animal Crossing, where she mainly worked decorating the interiors, and The Legend of Zelda: Twilight Princess, where she designed dungeons like the Forest Temple.
Her husband, Yoshitaka Takeshita, is a programmer at SRD who has worked with her on some projects.
Games List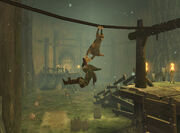 Special Thanks
Interviews
Ad blocker interference detected!
Wikia is a free-to-use site that makes money from advertising. We have a modified experience for viewers using ad blockers

Wikia is not accessible if you've made further modifications. Remove the custom ad blocker rule(s) and the page will load as expected.