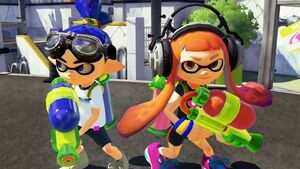 The
Shooter
is the basic weapon class in
Splatoon
. 
List of known Shooters
Shooter Characteristics
Shooters shoot small bursts of ink in rapid succession. Some are faster than others and some have more range. The shooter is akin to the pistol or shotgun in other FPS or TPS games.
Ad blocker interference detected!
Wikia is a free-to-use site that makes money from advertising. We have a modified experience for viewers using ad blockers

Wikia is not accessible if you've made further modifications. Remove the custom ad blocker rule(s) and the page will load as expected.