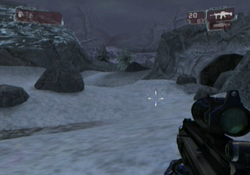 Siberia Crash
is the eighth mission in
Conduit 2
. It's where the player helps the
Free Drudge
.
The Mission
Back in Atlantis, Andromeda instructs Michael Ford to go to Siberia and warn Katarina.
Upon arrival in Siberia, a Free Drudge dropship is shot down and Ford meets the wounded Othu who asks him to help his fellow Free Drudge. Ford disables the anti-air turrets at the Siberian base and eliminates all The Trust men in the area. He then radios for help.
Enemies
Ad blocker interference detected!
Wikia is a free-to-use site that makes money from advertising. We have a modified experience for viewers using ad blockers

Wikia is not accessible if you've made further modifications. Remove the custom ad blocker rule(s) and the page will load as expected.