Skyworld is the third world in the NES game, Kid Icarus. Along with the Underworld, Overworld, and Palace in the Sky, Skyworld is one of the four main divisions of Angel Land. It is full of Greek architecture on floating islands. A giant Palutena statue can be found near a temple, and Palutena's Temple is found here too.
Kid Icarus series
Kid Icarus
The area is made of fall-through clouds and tricky jumps. By now, Pit has likely obtained all of his special weapons.
3-1:
Enemies:
Chambers: Hot Springs, Sacred Chamber
3-2:
Enemies: 
Chambers: Hot Springs, Sacred Training Chamber, Store, and Black Marketeer
3-3:
Enemies:
Chambers: Store and Black Marketeer
3-4:
Enemies:
Kid Icarus: Of Myths and Monsters
Pit goes through the Sky World Tower to obtain the Three Sacred Treasures.
Kid Icarus: Uprising
Super Smash Bros.
Skyworld
is also a stage in
Super Smash Bros. Brawl
and 
Super Smash Bros. for Wii U
that takes place in the world of
Kid Icarus
. As its name implies, it's stationed high up in the sky. It features one main platform and four minor, pass through ones surrounding it. Each of the pass-through platforms can be destroyed, though they'll eventually regenerate.
It also appears as a Stage in Super Smash Bros. Brawl's adventure mode; the Subspace Emissary. It is the introductory level for Pit. It is where Mario was sent by the cannon ball from the Midair Stadium.
Palutena's Temple, a location from Kid Icarus and Kid Icarus: Uprising, is a stage in Super Smash Bros. for Wii U . One of the biggest stages in the Super Smash Bros. series, 3 floating islands make up the stage. The first, located on the left, is navigated by springs and holds a large columned building. The second island on the right has a large Palutena statue (modernized to fit her current design from the statue in Brawl's Skyworld stage) and the third, located in the top left, floats to and from the top of the screen.
Palutena's Guidances, similar to Brawl's Snake codecs, are messages activated by Pit by rapidly using his down taunt that give info on every fighter in the game. They can only be used on this stage.
[[Shemum|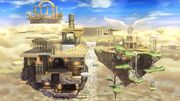 ]]
Ad blocker interference detected!
Wikia is a free-to-use site that makes money from advertising. We have a modified experience for viewers using ad blockers

Wikia is not accessible if you've made further modifications. Remove the custom ad blocker rule(s) and the page will load as expected.