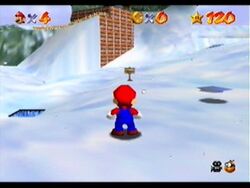 Snowman's Land is a location found in Super Mario 64.
Stars
Snowman's Big Head
Chill With The Bully
In The Deep Freeze
Whirl From The Freezing Pond
Shell Shreddin' For Red Coins
Into The Igloo
See Also
Ad blocker interference detected!
Wikia is a free-to-use site that makes money from advertising. We have a modified experience for viewers using ad blockers

Wikia is not accessible if you've made further modifications. Remove the custom ad blocker rule(s) and the page will load as expected.