Spectra (JPJapanese: ミタマの国

Romaji: Mitama Nation) is the ghost type kingdom in the Ransei region in Pokémon Conquest. It is led by the warlord Nō, and it is where the player meets Okuni in the main story.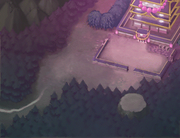 Ad blocker interference detected!
Wikia is a free-to-use site that makes money from advertising. We have a modified experience for viewers using ad blockers

Wikia is not accessible if you've made further modifications. Remove the custom ad blocker rule(s) and the page will load as expected.