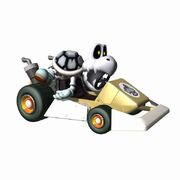 The Standard DB is one of Dry Bone's three karts in Mario Kart DS, the other two being the Banisher and the Dry Bomber. It has the same plain look that all the other Standard Karts have, but it is brownish-gray, with white fenders. This kart has the best acceleration of all standard karts in the game, but unfortunately, has the worst speed of the standards.
Stats
Speed - 3/10
Acceleration - 10/10
Weight - 4.5/10
Handling - 9.5/10
Drift - 5/10
Items - 6.5/10
Ad blocker interference detected!
Wikia is a free-to-use site that makes money from advertising. We have a modified experience for viewers using ad blockers

Wikia is not accessible if you've made further modifications. Remove the custom ad blocker rule(s) and the page will load as expected.