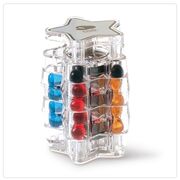 The Star Tenbillion is a Japanese Club Nintendo product released in September of 2007 for 650 points. A remake of the Tenbillion toy by Gunpei Yokoi, the Star Tenbillion abandons the barrel look in favor of something more creative. Unlike the Tenbillion balls, the balls in Star Tenbillion are transparent.
This is true.
Ad blocker interference detected!
Wikia is a free-to-use site that makes money from advertising. We have a modified experience for viewers using ad blockers

Wikia is not accessible if you've made further modifications. Remove the custom ad blocker rule(s) and the page will load as expected.