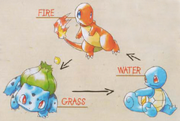 Starter Pokémon is a terminology concept that refers to Pokémon that the player must choose between in the beginning of each Pokémon video game. There are always three Pokémon to choose between. One will be a Water type, another one Grass, and the last one Fire (excluding Pikachu in Pokémon Yellow). The three types create a circle, where each Pokémon is weak to one of the others and strong to the other one. In the games the player's rival always chooses the Pokémon with a type advantage over the player's Pokémon.
It should be noted that Bulbasaur, while typically known as a grass Pokémon, is also a poison type as well. When leveling up, some Starter Pokémon will also gain a second type as well, such as Charizard becoming a fire and flying type and Torterra becoming a Grass and Ground type.
List of starter Pokémon
Ad blocker interference detected!
Wikia is a free-to-use site that makes money from advertising. We have a modified experience for viewers using ad blockers

Wikia is not accessible if you've made further modifications. Remove the custom ad blocker rule(s) and the page will load as expected.