StreetPass Mii Plaza
Talk

0
13,375pages on
this wiki
StreetPass Mii Plaza
Developer(s)
Nintendo


Arzest (later update)

Publisher(s)
Nintendo
Platform(s)
Classification(s)
    
Genre(s)
Variety

Credits • Gallery • Cheats & Hints • Videos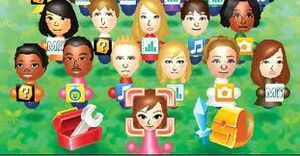 The
Streetpass Mii Plaza
is one of the
Nintendo 3DS's
built in apps that are meant to go hand in hand with the
Mii Channel
.
Features
Uses StreetPass Technology and Nintendo Zone locations to gather Miis from other 3DS's and the Internet during event occasions (Spotpass)
Stores data on every Mii that has been StreetPassed, and will update changes on every subsequent SteetPass
Choose which Mii to greet other Miis and what Hat/Costume they will wear.
Choose a bio (Greeting, Likes, Dreams etc) to show others.
Puzzle Swap (Updated Occasionally with new puzzles)
Streetpass Quest I/Find Mii (Battle Entities for hats and save your king/queen)
Streetpass Quest II/Secret Streetpass Quest II (Included with first update and secret quest is locked untill full completion of normal Streetpass Quest II)
Main Update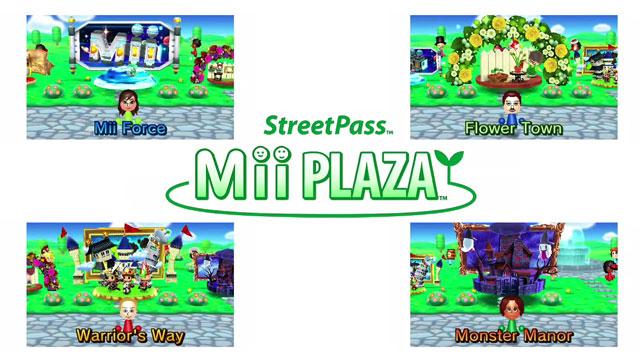 At one point, StreetPass Mii Plaza recieved a large update that made various changes to the application.
Addition of 4 new DLC Games
Massive increase in Music variety
Added 99 new hats
Addition of Slide Show for viewing completed Puzzle Swap panels
Addition of StreetPass Map for tracking locations of met Miis
Addition of Accomplishments
Free Pixel-Mario Hat for those who update Streetpass
Access to various games is at bottom screen for convenient use
Added shop, coupon shop, game screen (fountain with game icons) & update widget to selection.
Choose from 6 emotion types while greeting other miis. (Found in greetings menu)
Games


Trivia
The background music changes in milestones for how many Miis you collect. It changes at 20, 50, 100, 300, 500, and 1,000 Miis, including your Mii.
First update included Streetpass Quest II and Secret Streetpass Quest II which included many new entites and many new hats to earn.
Upon release of the update, the shop was glitched preventing anyone from purchasing the DLC until it was updated shortly after release.