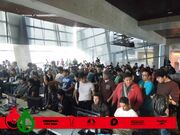 Streetpass San Diego is a group located in San Diego, California, US. It is the largest StreetPass and Nintendo meet-up club in the United States.
StreetPass San Diego's mission is to gather Nintendo fans, usually once a month and provide fun, free and friendly fun to the local community. The emphasis is on the attendees and not on the administrators. Gatherings of StreetPass San Diego, called "Miitups" in reference to the Mii characters from Nintendo, have an average attendance of 150 people every month. Owners of Nintendo 3DS, Wii U or any other Nintendo gaming system meet and play in tournaments, exchange StreetPass data and socialize with other fans.
In 2014, StreetPass San Diego hosted a panel at San Diego Comic Con, where the administrators of the group went over the history of the community and answered questions from the fans.
Sponsors
StreetPass San Diego has worked with a number of different sponsors sponsors. The sponsoring allows them to provide prizes at their trournaments and raffles.
Nintendo
Capcom
Konami
Square Enix
Sega
Bandai Namco
Knex
Jakks Pacific
External links