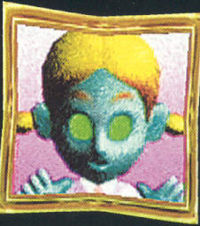 Sue Pea was a seven year old Portrait Ghost in the Nintendo GameCube game Luigi's Mansion. She died while asleep, and lived in the Guest Room. She is optional but Luigi is rewarded for her capture. Oddly, the guest room is upside down so she sleeps in a bed on the ceiling.
Battle
Using the Game Boy Horror, Luigi learns that Sue Pea has promised never to wet the bed. So naturally, he shoots water up at her. This enrages her and she can now be vacuumed up. However, our green clad friend must also dodge dolls she throws. Soon she is sucked up, and Luigi receives tons of treasure.
Ad blocker interference detected!
Wikia is a free-to-use site that makes money from advertising. We have a modified experience for viewers using ad blockers

Wikia is not accessible if you've made further modifications. Remove the custom ad blocker rule(s) and the page will load as expected.