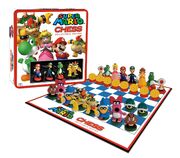 The Super Mario Bros. Chess Set is a Nintendo licensed product by the manufacturer Sweet Deal. As its name implies it's a Mario based chess set with different Mario characters. Each side has different characters, with one side being the allies and the other the villains of the Mario universe. The pawns are inanimate objects.
Characters
Allies
Villains
Ad blocker interference detected!
Wikia is a free-to-use site that makes money from advertising. We have a modified experience for viewers using ad blockers

Wikia is not accessible if you've made further modifications. Remove the custom ad blocker rule(s) and the page will load as expected.