Super Mario Maker
for Nintendo 3DS



European box art

Developer(s)
Nintendo Software Technology
Publisher(s)
Nintendo

                   Release Date(s)

---

| | |
| --- | --- |
|                NA:  | December 2, 2016 |

| | |
| --- | --- |
|                JP:  | December 1, 2016 |

| | |
| --- | --- |
|                EU:  | December 2, 2016 |

| | |
| --- | --- |
|                AU:  | December 3, 2016 |

Platform(s)
Genre(s)
Platformer, level creator
Rating(s)
ESRB  PEGI  ACB

Credits • Gallery • Cheats & Hints • Videos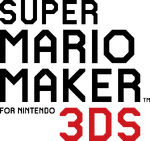 Super Mario Maker for Nintendo 3DS
is a port of the level creator,
Super Mario Maker
, for the
Nintendo 3DS
. The title retains most of the elements from the Wii U version though it lacks the ability to upload a player's levels online as well as
amiibo
compatibility.
Gameplay
Changes
The main changes were in level sharing in that players can only play others' levels by doing the 100 Mario Challenge or selecting one of the courses from the Recommended section. The bookmark function is unavailable and there is no option to enter a Course ID.
The Mystery Mushroom costumes were also removed, making them exclusive to Wii U owners.
The 10 Mario Challenge was changed to the Super Mario Challenge, with 100 new courses spanning 19 worlds.
Local Play
This version has a much greater focus of local play. Players can StreetPass each other's levels. Players can also work collaboratively on levels locally.
Ad blocker interference detected!
Wikia is a free-to-use site that makes money from advertising. We have a modified experience for viewers using ad blockers

Wikia is not accessible if you've made further modifications. Remove the custom ad blocker rule(s) and the page will load as expected.