Ad blocker interference detected!
Wikia is a free-to-use site that makes money from advertising. We have a modified experience for viewers using ad blockers

Wikia is not accessible if you've made further modifications. Remove the custom ad blocker rule(s) and the page will load as expected.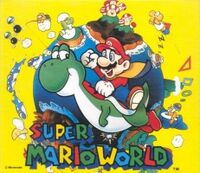 The Super Mario World Soundtrack is a set of two CD's released in 1991 (only in Japan). The first CD features recreated works from Mario video games, completely composed by Koji Kondo. The second disc features music and sound effects from Super Mario Bros., Super Mario Bros.: The Lost Levels, Vs. Super Mario Bros., Super Mario Bros. 3, and Super Mario World.
Track list
Disc 1
Click on the link to listen to the song, all from GameSymphony's YouTube channel.
Disc 2
#
Song title
From
1
Overworld BGM
Super Mario Bros.
2
Underworld BGM
3
Swimming BGM
4
Castle BGM
5
Invincible BGM
6
Course Clear Fanfare
7
World Clear Fanfare
8
Time Up Warning Sound
9
Player Down
10
Game Over
11
Ending
12
Worker Mario Name Entry
Vs. Super Mario Bros.
13
Ending
Super Mario Bros.: The Lost Levels
14
World 1 Map
Super Mario Bros. 3
15
World 2 Map
16
World 3 Map
17
World 4 Map
18
World 5 Map
19
World 5 Sky Map
20
World 6 Map
21
World 7 Map
22
World 8 Map
23
Whistle Sound + Warp Map
24
Overworld BGM
25
Athletic BGM
26
Underworld BGM
27
Swimming BGM
28
Fortress BGM
29
King's Chamber Appearance
30
Airship BGM
31
Invincible BGM
32
Enemy Battle
33
Fortress Boss
34
The Evil King Bowser
35
Toad's House
36
Slot Screen BGM
37
Music Box
38
Course Clear Fanfare
39
Fireworks Fanfare
40
World Clear Fanfare
41
Player Down
42
Game Over
43
Ending
44
Title BGM
Super Mario World
45
MAP 1 (Yoshi's Island)
46
MAP 2 (Overworld)
47
MAP 3 (Vanilla Dome)
48
MAP 4 (Star World)
49
MAP 5 (Forest Of Illusion)
50
Bowser Castle Emerges
51
MAP 6 (Bowser Castle)
52
MAP 7 (Special)
53
Overworld BGM
54
Athletic BGM
55
Underground BGM
56
Swimming BGM
57
Haunted House BGM
58
Sub Castle BGM
59
Switch BGM
60
Invincible BGM
61
Bonus Screen BGM
62
Bonus Screen Clear Fanfare
63
Koopaling BGM
64
Koopaling Castle Clear Demo­ & Egg Is Rescued
65
Koopaling Castle Clear Demo ­& BGM
66
Course Clear Fanfare
67
Sub Castle Clear Fanfare
68
Player Down
69
Game Over
70
The Evil King Bowser BGM
71
Princess Peach Is Rescued
72
Ending
73
Sound Effects (SMB1 - Part 1)

Mario Jump
Super Mario Jump
Power-Up
Entering Pipe/Power-Down
Fireball

Super Mario Bros.
74
Sound Effects (SMB1 - Part 2)

Enemy Stomp
Shell Kick
Underside Bump
Coin Collected
Power-Up Appearance

75
Sound Effects (SMB1 - Part 3)

Vine Growing
Brick Smash
1-Up
Flagpole
Score Tally

76
Sound Effects (SMB1 - Part 4)

Bullet Bill Attack/Firework
Bowser's Fire Breath
Bowser Falls

77
Sound Effects (SMB1 - Part 5)

Wind Gust (The Lost Levels)
Skid

78
Sound Effects (SMB3 - Part 1)

Raccoon Mario Tail
Mario Jump
Suit Power-Up
Suit Power-Down
Full P-Meter

Super Mario Bros. 3
79
Sound Effects (SMB3 - Part 2)

Map Start
Course Space Selected
Item Reserve
Minigame Won
Minigame Lost

80
Sound Effects (SMB3 - Part 3)

Course Start
Boomerang Bro.
(Unused)
Wandering Hammer Bro
Airship moves

81
Sound Effects (SMB3 - Part 4)
82
Sound Effects (SMW - Part 1)

Mario Jump
Cape Spin
Spring
Power-Up
Cape Power-Up

Super Mario World
83
Sound Effects (SMW - Part 2)

Pipe/Power-Down
Item Storage
Retrieving Stored Item
Swimming
Cape Flight

84
Sound Effects (SMW - Part 3)

Power Balloon
Egg Hatching
Yoshi
Yoshi's Tongue
Yoshi Swallow

85
Sound Effects (SMW - Part 4)

(Unused)
Yoshi Flee
Yoshi Fire Breath
Yoshi Ground Pound
Fire Flower Fireball

86
Sound Effects (SMW - Part 5)

Enemy Stomped
Enemy Smashed
Dry Bones Stomped
Boss Hit
Shell Hit

87
Sound Effects (SMW - Part 6)

Shell Hit (Higher Pitch due to Combo)
Shell Bounce
Coin
Dragon Coin
Item Comes out of Block

88
Sound Effects (SMW - Part 7)

Beanstalk
Turn Block Destroyed
1-Up
Check Point
P-Switch Pressed

89
Sound Effects (SMW - Part 8)

P-Switch End
Message
Scroll Screen
Score Drum Roll
Door

90
Sound Effects (SMW - Part 9)

Thwomp
Key Exit
Level Complete
Magikoopa Magic
Podoboo

91
Sound Effects (SMW - Part 10)

Blargg
Grinder
Swooper
Chargin' Chuck Whistle
Chargin' Chuck Clap

92
Sound Effects (SMW - Part 11)

Open Path
World Map Walk
! Blocks flying
Castle Collapse
Thunder

93
Sound Effects (SMW - Part 12)

Entrance to Valley of Bowser Emerges
Demolition Fuse
Demolition Explosion
Bonus Game Lose
Bonus Game Win

94
Sound Effects (SMW - Part 13)

Pipe Koopa Kid Killed
Yoshi Spit
Koopa Kid Falls in Lava
Wall-climbing Koopa Kid Killed
Bowser Flee

95
Sound Effects (SMW - Part 14)

Bowser Fireball
Bowser Returns
The Princess
Bowser Defeated
Bowser Flies to Distance
Shoot Firework

96
Sound Effects (SMW - Part 15)