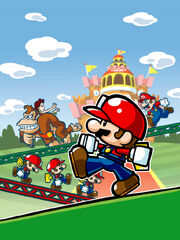 Super Mini Mario World is an amusement park which was made with the money earned off of Mini Mario toys in Mario vs. Donkey Kong 2: March of the Minis, Mario vs. Donkey Kong: Minis March Again!, and Mario vs. Donkey Kong: Mini-land Mayhem!. It is named after the SNES video game Super Mario World. In the game, Mario invites Pauline from Donkey Kong to cut the ribbons, but Donkey Kong, who was jealous of not being invited, shows up and kidnaps her.
List of appearances
Ad blocker interference detected!
Wikia is a free-to-use site that makes money from advertising. We have a modified experience for viewers using ad blockers

Wikia is not accessible if you've made further modifications. Remove the custom ad blocker rule(s) and the page will load as expected.