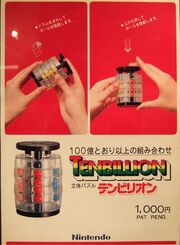 The Tenbillion was a toy Nintendo released in 1980 in Japan for 1,000 yen. Resembling a miniature barrel, this cylinder-shaped object features six separate levels, 23 colored balls and three black balls. The goal of the game is to make sure balls of the same color are placed on the same level. Gunpei Yokoi, who created the game, named it after the fact that there are billions of different ways to complete it.
Nintendo manufactured a successor to the Tenbillion in 2007 titled Star Tenbillion that was made available exclusively on Japan's Club Nintendo website for 650 points.
Gallery
External links
Ad blocker interference detected!
Wikia is a free-to-use site that makes money from advertising. We have a modified experience for viewers using ad blockers

Wikia is not accessible if you've made further modifications. Remove the custom ad blocker rule(s) and the page will load as expected.