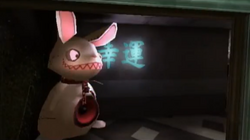 Tetsuo's Games
is a mission in
Red Steel
. It's the third level in "Act 2: The Path of the Katana Giri".
The Mission
In assisting the Sanro Kai, Scott Monroe heads to the Shinjuku District because Tetsuo Misumi, a member of the Sanro Kai, has switched sides and joined the bad Yakuza. His gambling establishments have turned to illegal fights. Upon entering the District, Scott is captured and taken to Tetsuo's funhouse where many deadly games and traps await him, including a hunting match where he is the prey, a sci-fi themed roller coaster ride, and a Godzilla-inspired room full of giant eggs, among other crazy things. Scott manages to survive them all and impresses Tetsuo with his skills. So Tetsuo decides to come back to the Sanro Kai.
Ad blocker interference detected!
Wikia is a free-to-use site that makes money from advertising. We have a modified experience for viewers using ad blockers

Wikia is not accessible if you've made further modifications. Remove the custom ad blocker rule(s) and the page will load as expected.