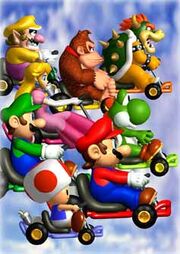 For a full list of Mario characters, check here
The Big Eight are a group of eight major characters in the Mario series that are usually in games together, and are the most popular characters in the series. The eight characters have appeared in many games together, such as the Mario Kart and Party games. The first time all eight of them appeared in a game together was Mario Kart 64. Even though they have never all appeared in a main platformer, a big amount of them usually appear in one, and usually all of them appear in a spin-off.
The Characters
Edit
The Games
Edit
This is a list of games staring characters from the Big Eight. Mario's first game was Donkey Kong, which was Donkey Kong's first as well. Luigi first appeared in Mario Bros, following Super Mario Bros which introduced Peach, Bowser, and Toad. Next came Yoshi's first game which was Super Mario World, and finally Wario's was with Super Mario Land 2.
Cam: Cameo
Other Notable Mario Characters
Edit
While the big eight are obiviously the main Mario Characters, there are other characters that, while not as popular, are getting big fan bases. Those characters are.