The Legend of Zelda: Ocarina of Time Hyrule Symphony
Talk

0
Share
Ad blocker interference detected!
Wikia is a free-to-use site that makes money from advertising. We have a modified experience for viewers using ad blockers

Wikia is not accessible if you've made further modifications. Remove the custom ad blocker rule(s) and the page will load as expected.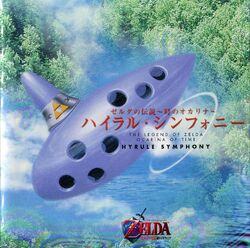 The Legend of Zelda: Ocarina of Time Hyrule Symphony
is a soundtrack containing orchestrated tracks based on
The Legend of Zelda: Ocarina of Time
, a
Nintendo 64
video game. There are thirteen tracks, all of them originating from the video game. It was released only in Japan on January 27,
1999
.
Koji Kondo
composed the soundtrack while he and three others did the final tune, "The Legend of Zelda Medley".
Track listing
| Track | Title | Length |
| --- | --- | --- |
| 1 | "Title" | 4:03 |
| 2 | "Kokiri Forest" | 2:10 |
| 3 | Hyrule Field | 3:47 |
| 4 | Hyrule Castle | 2:10 |
| 5 | Lon Lon Ranch | 3:26 |
| 6 | Kakariko Village | 3:06 |
| 7 | Death Mountain | 2:58 |
| 8 | Zora's Domain | 3:41 |
| 9 | Gerudo's Valley | 4:34 |
| 10 | Ganondorf | 1:06 |
| 11 | Princess Zelda | 3:05 |
| 12 | Ocarina Medley | 3:52 |
| 13 | The Legend of Zelda Medley | 4:48 |