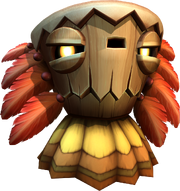 Tikis
are a race of wooden creatures that were sealed inside the
Donkey Kong Island
magma. They are the primary antagonists in
Donkey Kong Country Returns
. Most of the Tikis resemble floating wooden masks with some resembling various musical instruments and many are adorned with colored feathers. They are also known to use fire as a weapon. As seen in
Factory
, the Tiki army were created with banana cream from
hoard
incorporated into its body for
Colonel Pluck
(controlled by
Accordion Tiki
). After
Tiki Tong
's destruction, most Tikis were destroyed but some survived like
Tiki Seekers
in
Golden Temple
.
Tiki Tak Tribe Members
Tikis Species
Trivia
Traditionally, Tikis are associated with Polynesian culture, however the Tikis seems to draw more influence from African tribal culture instead. This is because of the patterns and vibrant colors each Tiki has.
Ad blocker interference detected!
Wikia is a free-to-use site that makes money from advertising. We have a modified experience for viewers using ad blockers

Wikia is not accessible if you've made further modifications. Remove the custom ad blocker rule(s) and the page will load as expected.