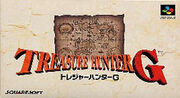 Treasure Hunter G is a Super Famicom role-playing game released by Square in 1996. In December of 2007 it was released on the Japanese Wii Virtual Console. Treasure Hunter G was interestingly released only two weeks before Square announced that they would cease to develop anymore games for Nintendo video game systems. Six years later they would resume their operations with the company and find great success.
Characters
The Bone Dino is the last boss in the game.
Ad blocker interference detected!
Wikia is a free-to-use site that makes money from advertising. We have a modified experience for viewers using ad blockers

Wikia is not accessible if you've made further modifications. Remove the custom ad blocker rule(s) and the page will load as expected.