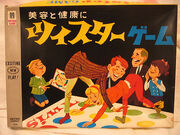 Twister is a popular game created by Hasbro that they launched in the sixties. Nintendo was given the rights to produce and manufacture the game in Japan in the late sixties, doing so without much success. Many teenagers in the West enjoyed the seductive nature of the game, with Hasbro's competitors heavily noting this fact by labeling it as "sex in a box". Apparently this was not as appreciated in Japan as it was in the United States, with several women apparently outright refusing to play the game because of having to act out, to them, humiliating poses. Nintendo took note of this, and re-marketed a second version that made it seem like an exercise game.
Today, Twister is produced in Japan by Takara Tomy.
Ad blocker interference detected!
Wikia is a free-to-use site that makes money from advertising. We have a modified experience for viewers using ad blockers

Wikia is not accessible if you've made further modifications. Remove the custom ad blocker rule(s) and the page will load as expected.