Greetings! I'm Dubya Scott, a long-time Wikia User who first started editing this wiki on September 29, 2011.
I'm addicted to Wiki-editing. It's fun!
I'm a geek and proud of it. (Star Wars, comic books, etc...)
I love to play and watch hockey.
I have a BFA (Bachelor of Fine Art) in Animation and Visual Effects.
I am an alumnus from the Academy of Art University in San Francisco.
Check out my website: wscottpattullo.com
Projects on which I'm working...
Edit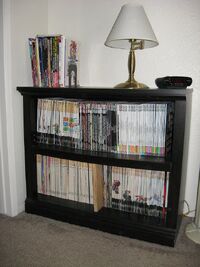 I have been a HUGE fan of
Nintendo
since the
NES
was released all those years ago. And I have the entire run of
Nintendo Power
magazines from
1988
to
2012
. My mission for this Wiki is to complete all
Nintendo Power
and
Nintendo Power
-related articles. I also want to complete all
Chrono Trigger
articles. On top of that, I want to deal with all the
unused files
on the wiki, whether it's deleting them or putting them in the proper articles and galleries.
In Progress
Edit
Completed
Edit
Favorite games / Currently playing
Edit
Listed below are some of my favorite games of all time...games that I never get tired of playing. Also listed, the game(s) I am currently playing.
Games I own
Edit
Unfortunately, my brother has our old NES and SNES (and all the games). He also has a few of my old Game Boy Color and Advance games. But the following is a list of what I do currently have in my possession.
Non-Nintendo gaming devices
PC
Emulator (on my PC)
Xbox 360

1602 A.D.
Age of Empires III
Civilization II: Gold Edition
Freedom Force
Indiana Jones and the Emperor's Tomb
Lemmings Revolution
Myth II: Soulblighter
RollerCoaster Tycoon
RollerCoaster Tycoon: Corkscrew Follies (expansion pack)
Star Wars: Battlefront
Star Wars: Episode I: The Phantom Menace
Star Wars: Force Commander
Star Wars: Galactic Battlegrounds
Star Wars Galactic Battlegrounds: Clone Campaigns (expansion pack)
Star Wars: Knights of the Old Republic
The Lord of the Rings: War of the Ring
The Sims: Deluxe Edition
The Sims: Unleashed (expansion pack)
Unreal Tournament
World in Conflict

Battlefield 3
Jurassic Park: The Game
Mirror's Edge
RISK: Factions (downloaded from Xbox Live)
Tomb Raider (2013 reboot)
Lucky Edits
Edit
This section lists the "Lucky Edits" I've earned.
| | Wiki edit number | Date | Article | Reason |
| --- | --- | --- | --- | --- |
| 1 | 55,000th edit | December 15, 2011 | | Creating article |
| 2 | 69,000th edit | May 26, 2012 | | Fixing a link |
| 3 | 76,000th edit | July 17, 2012 | | Giving it a proper character template |
| 4 | 90,000th edit | November 1, 2012 | | Adding a category |
| 5 | 105,000th edit | February 10, 2013 | | Adding categories |
Other Wiki stuff
Edit
This section lists the other Wikis to which I contribute.
My Badge Case
Edit