Recently while editing I started to get a bit bored, so I have decided to write a series of blog posts that will help new editors learn some neat tips and tricks to good editing.
For this post I will go over images.
---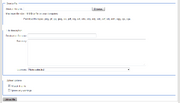 Images are one of the most important part of wiki pages, they help the reader to understand the topic of the page.
Adding images is easy. To upload an image go to Special:Upload or click on the "Add a Photo" button on the "Latest photos" side bar. When uploading an image it is important to give it a good name that allows the image to easily be identified. For example if you have a picture that is Kirby's artwork from Kirby Squeak Squad you should give it a name like File:Kirby (Kirby Squeak Squad).png.
Next if you aren't using Special:Upload, click the "More Options" drop-down link to see more options. You should now choose what licenses it should have. If it is a Nintendo made image (artwork, screenshots of games, etc.) choose "This will be used in a way that qualifies as fair use under US law. (Nintendo owned properties)". If it is an image made by another video game company choose "This will be used in a way that qualifies as fair use under US law." If you found it on another wiki and it doesn't belong to either of the things above choose "I got this from Wikipedia or another Wikimedia project". If none of those options apply choose a different option based on what it should be. Now you can hit the upload button.
Then it is recommended to add categories to the image. You can add categories to the image's page just like any other page. Images are categorized by game series (ex. Mario images). If your image has a plain white background you should also add the category "Transparency Needed" so that someone can make the background transparent, which helps improve the look of the image on wiki pages.
When you are done with those things you can add the image to a wiki page. This may sound like a lot to do for adding 1 image, but it makes things easier later. If you don't do all of these things when uploading an image, that is fine, someone else should be able to do it later.
Editor's Tips

001 - 010

Images (001) • (002)
Ad blocker interference detected!
Wikia is a free-to-use site that makes money from advertising. We have a modified experience for viewers using ad blockers

Wikia is not accessible if you've made further modifications. Remove the custom ad blocker rule(s) and the page will load as expected.