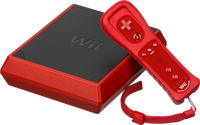 The
Wii Mini
has been confirmed to be released. It will be a smaller version of the
Wii
, with a smaller price and some features removed.
According to Nintendo of Canada, it will be released on December 7, 2012 in Canada. Though no other releases have been confirmed.

These features have been removed to make it smaller.
Internet Capabilities
GameCube backwards capability
GameCube Memory Card slots
GameCube controller slots

It will cost $99.99 (Canadian Dollars), and it will come with a red Wii Remote Plus and a red Nunchuk controller.
---

Are any of you looking forward to it, or interested in it?
Ad blocker interference detected!
Wikia is a free-to-use site that makes money from advertising. We have a modified experience for viewers using ad blockers

Wikia is not accessible if you've made further modifications. Remove the custom ad blocker rule(s) and the page will load as expected.