Welcome to Nintendopedia!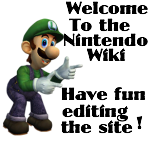 Welcome to our wiki, and thank you for your contributions! There's a lot to do around here, so I hope you'll stay with us and make many more improvements.
I'm really happy to have you here, and look forward to working with you!
You're welcome?
Pardon, but may I ask what exactly you're thanking me for?   Bentendo  Talk
Uhh, sure.
We can work together, I guess. - BattleFranky202 03:28, 13 May 2009 (UTC)
Mmmhmm
Nice meeting you
I will definitely add to the Mario pages whenever I can. The thing is, whenever I plan to do something, I always get distracted and end up doing something else on the Wikia. Well, as long as I'm contributing! --FF_Fan 16:20, 14 May 2009 (UTC)
Opinion
It's nice and big! Whenever I see a new page that has over 1,000 characters it makes me happy, and yours surpassed it by quite a lot.   Bentendo  Talk
Groups
Regarding your group idea, while I like it, I just don't think it would go over too well at the moment. Maybe another time, but right now I can just foresee it not going over the way it should.   Bentendo  Talk
Hey, how's it going?
Welcome to the wiki! Keep up the good work! --Lord Kenny 21:40, 16 May 2009 (UTC)
You're right
They have been around for quite a long time. I don't see them going away anytime soon. Even if there comes a day when they stop making consoles, I can't imagine they'd stop making games. Also, please don't post new sections in archives, but rather on my main talk page. Thanks!   Bentendo  Talk
Andross
Thank you. I just thought that it should have more than just his form in Star Fox 64. -Long Live James!
Thanks!
The Thousand-Year Door article is looking really nice!   Bentendo  Talk
Pizzahut101
Thanks! You are to!Pizzahut101 02:39, 2 June 2009 (UTC)
RE: DUDE NO WAY!
Yeah, I'm really excited about this one. I thought the original Super Mario Galaxy was an awesome game. I'm glad that they've included Yoshi this time. --Lord Kenny 01:32, 4 June 2009 (UTC)
RE: question
You would have to ask Bentendo about that. He runs the Nintendo wiki. I'm just a regular member. --Lord Kenny 04:43, 4 June 2009 (UTC)
Sounds fun!
Can you give me the link? Also note that I won't be able to do it too much since the Nintendo Wiki really is what I'm focusing on, but I'd be glad to help, especially since I'm really interested in video game history.   Bentendo  Talk
Well, the best thing you can do is advertise it on the Gaming Wikia under "New & Notable". That usually brings in a lot of editors.   Bentendo  Talk
RE: atari game burial
Absolutely. It's one of my favorite retro video game stories and sometimes it's hard to imagine it ever happening. To this day I regard it as the most infamous video game business decision of all time, or at least one of them.   Bentendo  Talk
Hi
Nw id find you on this wiki knowing we both like mario!!! I've been on your wiki today and i made you an admin on Pacman Wiki! PA<BOYCRAZ 15:42, September 15, 2009 (UTC)
RE: hey
They're good! Thanks for your contributions!   Bentendo  Talk
RE:Message
Hey, i wondered where your message was, then sure it in the box, lol. Anyway i have been doing a lot of school stuff (yawn) and doing more on Simpsons wiki, editing list of wii games with updates, but i really need to add more titles/links on there. What have you been up to?--Sgtcook 20:54, September 26, 2009 (UTC)
Copying other Wikis.
Welcome back! But remember - Don't copy from other Wikis (as you did with the MarioWiki). Doing so is a MAJOR rule on the site; we want original content (and we want the original content creators to get credited in the history section!). Thanks for understanding! --
Talk 17:52, November 18, 2009 (UTC)




18:29, November 18, 2009 (UTC)

Please do not feed the birds (or the troll) or I will block you.

Things are going great here, thanks. I've most recently become an administrator here.




Video Gaming History Wiki



19:39, March 4, 2010 (UTC)

Please do not feed the birds (or the troll) or I will block you.

First, running that system is basic suicide; anyone can make 50 useless edits, and thus be deserving of rollback. Secondly I've got my hands full enough as it is.




A couple of questions from the Community Team
Hi, Thanks for all of your work here on Wikia. We are constantly working to improve our site for users, and would love to get some feedback from you. Below are a couple of questions. If you could answer them here, on my talk page or send me an email with your responses, I would really appreciate it.
Have you ever used our Help pages?
If so, did you find them useful?
How would you suggest improving them?
Have you ever tried to contact Wikia staff for help? 
Did you find the help you needed?
Thank you and happy editing! Sarah
(talk 20:18, November 23, 2009 (UTC)
REPLY
One of the major rules of Wikipedia is to only make people admins when you need to. Right now, we just don't need new admins since everything is under control. I made LaunchBaller an admin since he was good with behind the scenes things, which was needed (and I don't even know where he went). Give it time, you really haven't been here all too long, and have only made around 500 edits. Good edits, yes, but remember: from now on I'm only going to promote people to adminship when we need one. --
Talk 14:58, November 24, 2009 (UTC)
Reply
Hi, your site is looking good! By the way, I deleted the image titled Purple bat because it was fanart. Thanks for understanding. --
Talk 15:41, March 26, 2010 (UTC)
You have to look at it this way: While EA's games are on the 360, they're also on the Wii and PS3 and in some cases the games perform better on the Wii (PGA Tour, for example). Sure, Halo is a popular franchise but Microsoft buying the rights to the series from Bungie won't make it anymore popular. Even under the worst case scenario, there is practically no chance for the Wii to be surpassed by either the 360 or the PS3. I suspect Nintendo will have a harder time next generation, but we'll just have to wait and see. -- Talk 18:06, March 26, 2010 (UTC)
REPLY
Nah man, I don't think I need a new one right now. We're not that busy at the moment. If I do need any I'll let you know. --
Talk 20:26, April 3, 2010 (UTC)
Re: Images
Yeah man, absolutely. The stub pages would definitely be improved if they had images.--  Bentendo  Talk 04:04, August 21, 2010 (UTC)
Sega Wiki
I would like to help out, but right now I'm focusing exclusively on the Nintendo Wiki. I'm sure you can find users by visiting Sega and Sonic forums, however. And if you need help with coding and what-not, you'll surely find someone who will assist you on the Wikia Community page. --  Bentendo  Talk 17:46, August 23, 2010 (UTC)
I've been to Sega Wiki
Yeah, man, I've been to the Sega Wiki before. Well, I have not exactly really HELPED helped out there, but I made some contributions. I probably won't be there that much, though, since I'm preoccupied with Starmen.net and Gamespot's All Time Greatest Game Villain contest. After the contest is over, sure, why not? ParaGoomba348 01:56, September 1, 2010 (UTC)
hi
Categories
Hi! When adding categories, please don't add one if a subcategory already is there. For example, you don't need to add "Location" if "Mario location" already is added, like I saw you did on several galaxies. Also, don't add genres which isn't right. Action-adventure is not to be added to fighters or FPSs. Thanks! - Ville10 20:41, October 7, 2010 (UTC)
Ok
No more. User_talk:Batking30 Go Edits! 20:03, October 10, 2010 (UTC)
Copying?
Excuse me for asking, but did you write the Pit of 100 Trials page yourself? The reason I'm asking is because the English is much better than your blog posts for example. Copying from other pages is not allowed. If you did write it, good job! Keep it up, and I'm sorry I thought you might have stolen it. - Ville10 13:18, October 14, 2010 (UTC)
Good, I suspected that was the case, but I wanted to be sure. Some of your blog posts just used so weird sentence structure I was a bit surprised when I saw that you wrote a perfectly good page. Keep up the good work! - Ville10 15:26, October 15, 2010 (UTC)
Re:im back now.
Thank you, your assistance is very much appreciated! - BattleFranky202 03:39, January 11, 2011 (UTC)
Reply
Um... No I am not an administrator, but I wish I was and yes I need help with the New Super Mario Bros. articles. Also why do you ask? Slipknot Darkrai 15:29, January 12, 2011 (UTC)