Valley of Bowser
is part of
Dinosaur Land
, a collection of islands in the
Mushroom Kingdom
in
Super Mario World
. Its located in the direct center of the islands hidden beneath the bay. Its entrance is past a ghost ship in a center of rocks. Bowser's Castle is in the valley. Valley of Bowser is ruled over by
Bowser
and
Larry Koopa
. Its not a real valley, but is a large underground cave with the ceiling being meters high and is underwater in the bay.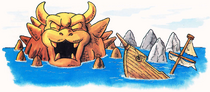 Levels
Donut Secret 2
Chocolate Secret
Sunken Ghost Ship
Valley of Bowser 1
Valley of Bowser 2
Valley Ghost House
Valley of Bowser 3
Valley of Bowser 4
Valley Fortress
Larry's Castle
Back and Front Doors/Bowser's castle (final level)
See Also
Ad blocker interference detected!
Wikia is a free-to-use site that makes money from advertising. We have a modified experience for viewers using ad blockers

Wikia is not accessible if you've made further modifications. Remove the custom ad blocker rule(s) and the page will load as expected.