Quote

"No more debt for me! My house is all paid off! ♪"

— Villager
The Villager is the player character in the Animal Crossing series.The different looks given to him are determined through Rover and Kapp'n asking you questions at the beginning of the game.
Animal Crossing series
In Animal Forest and all following games in the Animal Crossing franchise, Villager is the playable, human character. He/she decides to move out of their parents' house and start a life on their own. Along the way, they meet friendly characters like Rover, the Able Sisters, and Tom Nook, who gives the player a house, but also needs mortgage payments. In Animal Crossing: New Leaf, a new character, Isabelle, confuses him/her for the town mayor, and he/she must serve mayoral duties in your town if the player wants it to grow.
Super Smash Bros. series
In Super Smash Bros. Brawl, he appeared as a background character in Smashville as well as being two trophies. However, with Super Smash Bros. for Nintendo 3DS / Wii U, he became a playable character, incorporating numerous elements from his series. His design seems to derive the most from Animal Crossing: City Folk
Specials
Trophy Descriptions
Brawl
"The male player character from Animal Crossing. He feels the need to set out on his own and move into town. Chatting with neighbors is a given, but there are a ton of other things to do as well, like collecting furniture, customizing rooms, catching fish and bugs, digging up fossils, etc. He may get bee stung or fall in a pit, but he still has fun."
3DS/ Wii U main
3DS / Wii U Alt
Alternate Costumes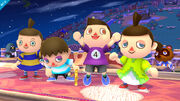 The Villager has 8 alternate costumes. 4 of them are male while the other 4 are female. They also all feature clothes from the games.
Mario Kart 8
In Mario Kart 8's second DLC Pack, the Villager was added. Both genders are in the Medium class though in weight, they are slightly lighter than their counterparts in the same body frame class
Trivia
Prior to Brawl's release, Sakurai stated that certain characters like the Villager wouldn't take part in the fighting cast due to being so far separated from fighting in the main games. He was the first newcomer revealed for Super Smash Bros. for Nintendo 3DS / Wii U
Ad blocker interference detected!
Wikia is a free-to-use site that makes money from advertising. We have a modified experience for viewers using ad blockers

Wikia is not accessible if you've made further modifications. Remove the custom ad blocker rule(s) and the page will load as expected.