Wataru Yamaguchi is a Nintendo game illustrator, who has worked for Nintendo since the early Nintendo 64 days, mainly in traditional and computer illustration. He also made clay models for use in Pikmin marketing campaigns and cover art.
He became one of the main CG supervisors for the Mario series until at least 2008.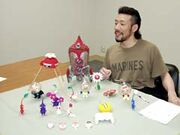 Games
Special Thanks
Trivia
External links
Ad blocker interference detected!
Wikia is a free-to-use site that makes money from advertising. We have a modified experience for viewers using ad blockers

Wikia is not accessible if you've made further modifications. Remove the custom ad blocker rule(s) and the page will load as expected.