Ad blocker interference detected!
Wikia is a free-to-use site that makes money from advertising. We have a modified experience for viewers using ad blockers

Wikia is not accessible if you've made further modifications. Remove the custom ad blocker rule(s) and the page will load as expected.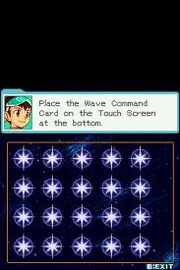 Wave Command Codes are a feature of the Mega Man Star Force series, introduced in Mega Man Star Force 2. Wave Command codes are obtained from separately bought cards that has the codes on them. They can be entered on the "Mega" screen by pressing "Select" and entering the code when asked to, or if the code is for a battle chip you must enter it after selecting a blank card, or press "Select" while selecting a card that was a blank card.
Star Force 2 Codes
Forms
These codes allow you to start all battles as a certain tribe form. (Until you turn off the game)
Reward
Code
Ninja Tribe

| | | | | |
| --- | --- | --- | --- | --- |
| 5 | 6 | 3 | 0 | 1 |
| 0 | 0 | 0 | 0 | 2 |
| 4 | 0 | 0 | 0 | 0 |
| 0 | 0 | 0 | 0 | 0 |